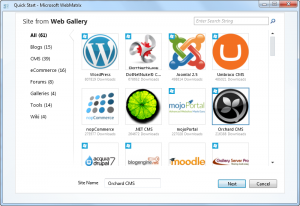 There are many types of CMS since the program is very flexible and useful to be applied either for business, personal blogging, or promotion. There are many free application of CMS, also there are some of them which have installed script provided, so all you have to do is just register and start to use it. It is pretty easy to use even for beginners who have not known about PHP, HTML, CSS, and sort of. But, it is more efficient to know your perfect mate of CMS based on your needs.

Other Things Behind CMS Application

First thing you should know about CMS is that you should know what goal which you will achieve using the application. For example, if you want to use CMS for blogging, what will you expect from it? It is merely for writing as you write diaries? Or you also need some track back, calendar, comments, and other features? In addition, if you want to broadcast some news or build it for online education, you should do some observation first to find out which CMS is the most suitable for your needs. Does your CMS support SEF and RSS? Those applications are essential to promote our websites, especially if we use it for business.
Second, check your web hosting. Does the type of your web hosting service supports CMS well? If you run a personal hosting type, are the quotas too much if only used for social media and personal blogging? In addition, if you run a shared hosting network, is it fast enough to be accessed if it is for working? Is there a MySQL database? If not, do not worry since there is a flat text database. Does the PHP fulfill your needs? Also, can the Library feature support the image manipulation?
Third, check your Internet connection. If you use CMS which is rich in features, moreover if it has AJAX which is like desktop application, is your Internet access capable enough to support all those features? Besides, are those features all being used frequently? If yes, then you should look for Internet network which does not only have unlimited quotas, but also fast in loading every page. It is better if the cost of Internet service is expensive but it has fast loading. Do not only look for the cheap one, but look on the qualities more.